SHORIN-RYU (STYLE AND HISTORY)
We have been a prominent school of martial arts for nearly 30 years here in the South Bay!

Our dojo was founded in 1990 by Sensei Bruce Schram and his teacher Roy Oyakawa. Bruce is a 7th degree black belt in Shorin-Ryu, he also had a 1st degree black belt in Kenpo and Tae-Kwon-Do. Bruce was a 5 time National Koshiki Karate Champion and a 6 time World Koshiki Karate Champion. Sensei Schram retired a few years ago and passed the school on to his three senior students. They continue to pass on the knowledge they've learned to the next generation of students.
Shorin-Ryu was created by Sokon "Bushi" Matsumura. It translates to "young or small pine forest." Our dojo trains in a specific branch called Shidokan Shorin-Ryu. Shidokan means, "House of the Way of the Warrior." Which was originated in the 1930's by Chibana Sensei.
Karate-Do comes from the kanji KARA (empty), TE (hand) and DO (way). Empty Hand Way. Not all dojos incorporate the DO into their training. The DO is the way in which you apply what you learn in Martial Arts into your every day life. We strive for a true balance of mind, body and spirit.
Our Lineage
Sensei's Jason Flentye, Ryan Tanaka, Austin Greene, and Jason Lockhart
Bruce Schram Sensei
Roy Oyakawa Sensei
Iha Sensei
Miyahira Sensei
Chibana Sensei
Itosu Sensei
Matsumura Sensei
Koshiki Karate-Do Instructors
Yonkyu / 4th Dan
Sensei Jason commenced his training at age 9 in 1990. He was one of Sensei Schram's first students. He earned 1st Dan Yudansha in 1994. Over his 27 years of training he has held titles for sparring, kata and weapons at local, state, and international levels. Sensei Jason loves to teach our special needs classes for students with developmental disabilities. He also works fulltime as a local pastor at King's Harbor Church in Torrance. When he is not at the dojo, he loves spending time with his wife and 3 kids.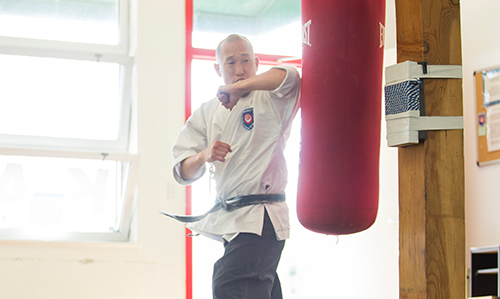 Yonkyu / 4th Dan
Ryan started when he was 14 years of age. An artist by trade, he has been teaching since he was a brown belt and has 26 years of different style of martial arts experience. The kids enjoy training with Ryan because he makes learning this style of martial arts fun, yet keeping within the realms of the style of karate.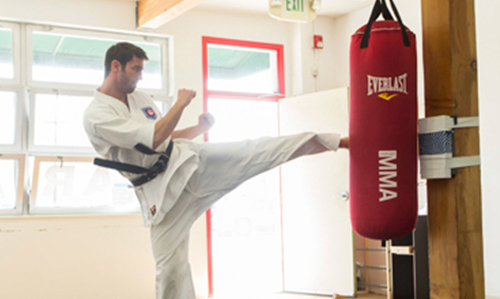 Sandan / 3rd Dan
Sensei Austin grew up in Manhattan Beach, CA and has been training with Koshiki Karate-Do since 1996. He has 24 years of Martial Art experience with the styles of Kenpo and Shorin-Ryu. He has been named the California State, National and World Koshiki Karate Champion and has competed multiple times on American Ninja Warrior.
In addition to 24 years of martial arts experience, Austin works full time as an Art Director with a digital creative agency, and enjoys spending time with his girlfriend family and friends. During the summer you might see him riding his bike down on the strand.
Shodan / 1st Dan
Jason began training when he was 6 years old in 2007. He earned his first degree black belt in 2013 and has 10 years of training in Shorin-Ryu Karate. He has held the title of State Champion in Koshiki sparring. Jason is also a head coach at the Tempest Freerunning Acadamy in Hawthorne, CA. When Jason isn't training and coaching he's shredding some heavy metal on his guitar.